‪
When Jared (my husband) and I were in medical school, a popular dance song hit the airwaves. Every. Single. Day.
Mind you, we didn't have any fancy music players back then, like we do today, which play the exact song you want to hear at the exact moment you want it to come on (my inner dinosaur is roaring..).
We would do it the old fashioned way: waiting patiently, sometimes for hours on end, for our song to come on.
Sometimes we'd tackle this issue more courageously, by the way, and attempt to "trap it" into a cassette player. This way, we actually COULD play it whenever we'd want. But we'd always end up with the radio announcer's voice at either ends of the song. Which for us, at the time, was still considered a win.
I imagine that anyone from the younger generation who's reading this is holding in their breath right about now, at the sheer horror of the thought..
Kind of like this: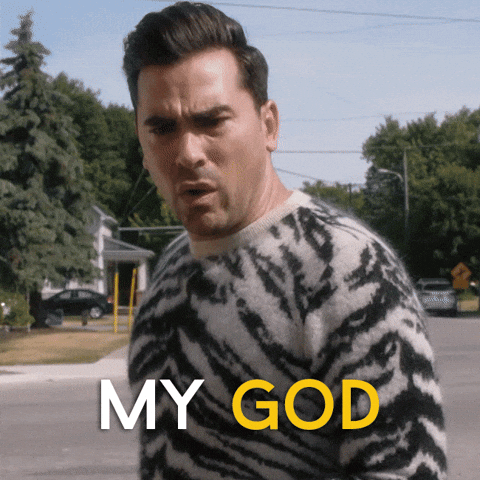 When the song finally came on (it was named 'I'm Blue', for those who want Alexa to play it for you for some context; and yes, Alexa is the perfect example of the "enabling" tools that allow us to have things brought over at our beck and call – good thing or bad?), we'd get up immediately and dance.
Now, I'm not saying we were good at it.
In fact, realistically, we danced along the lines of this:
But we danced. And it was good times.
Anyhoo, when hubby brought home a brand new board game the other day,
(ok, ok, so my husband didn't, in fact bring it. Another one of these "enablers" sent it to us; only this time, it was Amazon…),
.. my insides yelled out in sheer delight.
I translated the name on our brand new box and *voila*, 'I'm Blue' popped back into my brain, a memory from eons back.
Our brand new box, un-plastic'ed, below.
It reads, 'Azul.'
Azul immediately conjured up memories of the stressful, yet happy times from medical school.
Back then, we'd take breaks from studying and delightfully sway to catchy jingles like this one. It would momentarily allow us to lighten the weight of the thoughts that occupies our minds.
It was a respite – albeit a very short one – from the anatomy, electrophysiology, and biochemistry, to name just a few (I'm now cringing at the thought of all of that work!!).
Boy. Medicine is tough. But music and hobbies sure did help. When, of course, one found the time.
As for the game,
it quickly became a family favorite; like, overnight.
It's so simple, really, and made of just a few functional pieces:
a bag filled with beautiful tiles of 5 different varieties (they're so smooth to the touch, too. You'll feel relaxed just rubbing them)
a board for each player to lay their tiles on
a cube for keeping score.
That's it.
It's just incredible what people come up with these days, from just a few components.
Soooo..
Our latest board game recommendation for any family that appreciates quality time spent together in a friendly-competitive pastime is this one.
In fact, it made our list of Twelve FAVORITE Board Games Our Dual-Physician Family Loves to Play.
‪We basically Azul'ed it the ENTIRE holiday season.
Because the game is THAT good.
539 games later, we're taking a break. Just long enough to hop on here, and recommend it on the blog. Grab it by clicking on the photo to the left!