If You Build It, They Will Come.
"They", of course, refers to a target audience.
And 'building it' refers to ALL of that behind the scenes – no, underneath the iceberg, if you've seen that image – work that goes into it.
Any movie buffs out there recognize where the original quote is from?
I love to refer to it – the famous line from Field of Dreams, but tweaked for my angle on teaching the importance of branding.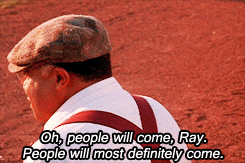 When I say, "If you build it, they will come," I refer to a carefully curated online presence. And that's with – or without – known purpose. You heard that right.
What I mean is that you don't necessarily HAVE to know where your end point will be at the onset. If you do already know that, that's great, and you're already ahead of the game. But there are plenty of us who simply don't know. And what I'm trying to say here is that that's also ok! Because things will take shape when you start to dabble.
In the meantime, there's building to do, and a lot out there to explore.
If you take it on, and stick to it. You'll find your place.